Great Instruction, Great Facility! Play golf and learn golf at Neshanic Valley!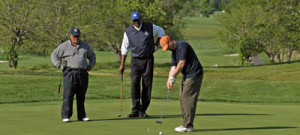 No methods. No gimmicks. Just BASICS!
Neshanic Valley is a world class golf course, but also a great place to learn the game. The Learning Center at Neshanic Valley has all the tools to develop a golfer from scratch and take them all the way to scratch.
Utilizing the short game area, grass practice tee, 10,000 sq foot putting green and 2 practice holes, the professional staff at Neshanic Valley can help golfers with any aspect of their game. During the winter months, instruction moved in doors to utilize different technologies to help the golfer keep their game in top shape.
Individual Lessons
Lessons can be booked individually or in small groups
Call the learning center at 908-369-8232
Stop by and schedule your lesson today!
Corporate Groups
Corporations are encouraged to bring groups of employees and/or clients for golf instruction, club fittings and swing analysis. Please contact Fred Glass at 908-369-8232 or at FGlass@scparks.org
Adult Group Education
Adult Group Education Classes are an inexpensive way for players to learn the game or improve upon their game with similar level players through group instruction. Class sizes range between four and eight students.
Held on Saturdays April-October
Please call the Learning Center at 908-369-8232 for more details.
The Ladies Academy
The Ladies Academy offers weekly instruction and organized play for ladies 18 years of age and older.
Classes are available:
Tuesday, Thursday or Sunday from 11am – 12pm
Rates $20 per student