Junior Golf Program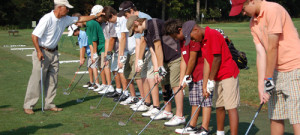 JUNIOR GOLF REGISTRATION WILL BEGIN MARCH 12TH AT 7AM AT THE NESHANIC VALLEY LEARNING CENTER!!!
YOU WILL ONLY BE ALLOWED TO REGISTER IN-PERSON
The Junior Golf Program is the longest running and most experienced junior program in the area. The program has produced several PGA professionals, including one touring PGA professional and one LPGA touring professional.
Director of Instruction: Fred Glass – PGA
Lead Instructor: David Chung
The Somerset County Park Commission offers several different junior instruction programs to include clinics, camps and on course play. All take place at the world class Neshanic Valley Learning Center in a very safe and secure environment. All activities are supervised and the goal of the program is to give girls and boys the chance to learn the basics of a game they can play and enjoy for a lifetime.
We are adding a new option this summer for the serious and avid junior player. A full summer (7 weeks) of instruction and play from 9am to 2pm five days a week. This option will be limited to the first 16 individuals to qualify and sign up.
For additional information, please call the Learning Center at 908 369-8232.